FertiPro diagnostic products
Semen analysis is one of the cornerstones in the treatment of fertility problems and will in many cases determine the course of action in further fertility treatment.
As one of the leading manufacturers of diagnostics for semen analysis, FertiPro provides the tools for your lab to perform these analyses.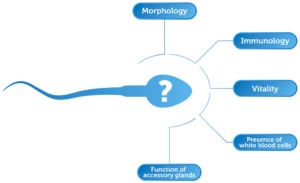 We offer a broad product range of diagnostics to assess the sperm morphology, immunology, vitality, presence of white blood cells or function of accessory glands.
FertiPro is one of the leading manufacturers of diagnostic kits for human semen analysis
Functionality of accessory glands